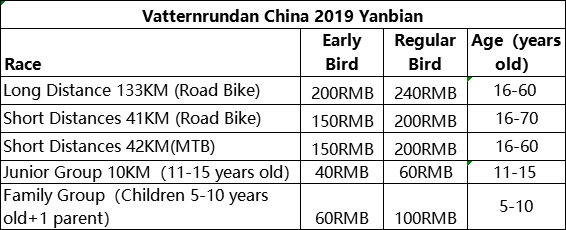 NOTE:
Early Bird – up until 2019-08-31
Regular Bird – from 2019-09-01
Entry Fee includes: Entry package, race number bib, number plate,one-time timing chip, race insurance, souvenir, drinks,supply, race-finish medal, race books.133km group including Tumen-Yanji bus fee.
Logistics Service:

1.Road Bike Rental:  Giant windmark 2500
Fee:150RMB
2.Transportation:  Changchun-Yanji Bus + Bicycle Transportation Service
Roundtrip Transportation Fee: 260 RMB /one person
3.Hotel Recommendation:
A. 5 star-rated hotel:Yanji International Hotel
Single/Twin Room–390RMB/per night
B. 2 star-rated hotel:Yanji Shiji Hotel
Single/Twin Room–160RMB/per night
4. Travel service:
1. Changbai Mountains, Vladivostok, Russia 5-day Tour
2. Nanyang Fangchuan Vladivostok 5-day Tour
3. 2-day tour of Luo Xian, Korea
4. 1-day tour of Changbai Mountain
5. 1-day tour to Nanyang, Korea
You can choose this servive online.